I haven't experimented with tofu as much as I'd have liked to - mainly because I always run out of patience trying to find it in Sainsbury's and they don't stock it in my beloved ALDI. Luckily Mum bought me some tofu last week whilst I was home which I ended up using in a mid week lunchtime stir fry. At some point I'll write a blog highlighting how to make it yummy and not just solidified yoghurt (when i've done a little more research) but for now feast your eyes on this awesome pie by
chocolate covered Katie
. I made this for a certain person's birthday a few years a go and it disappeared in the blink of an eye, luckily I still got to lick the bowl so I can vouch for it being super rich and delicious.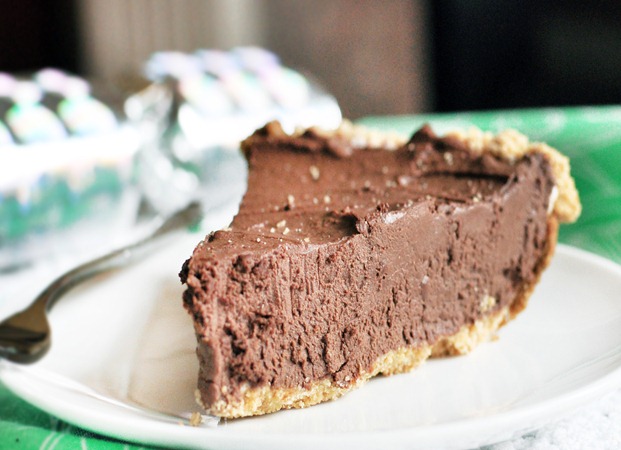 Chocolate Fudge Pie
Stir fry is a great transition dish to showcase how similar dishes can taste/smell/feel once veganised, my basic process for stir fry is below but really it can be however any other recipe advises
sans
the meat and ensuring egg free noodles are used. Another plus, not much washing up!
I always start with roughly 1 tbsp each of sunflower oil, white wine vinegar, sesame oil and 2 tbsp soy sauce. After I've drained and pressed the tofu to make it firmer, I cut thin slices and fry until well browned (got to be patient here, takes longer than you want it to!) I remove the tofu from the pan for the rest of the stir fry preparation as it's kind of a wimp if you go near it with a spatula too many times.
The rest of the ingredients include some of the following depending on my mood/whats in the fridge:
thinly sliced carrot
thinly sliced celery
mushrooms
mange tout
baby corn
Once everything is nearly cooked to my desired level I add noodles, these ones from ALDI are cheap and easy and they've started doing wholegrain which are even tastier.
Then once the noodles have warmed through I add the tofu carefully and usually add a little more soy sauce. Et voila!
P.S. For my loyal readers, I'm working on making the comment box work - I'd love to hear your thoughts!